Companies Act, 2013 defines the term "Director" as someone appointment to the Board of a company. It is compulsory for every Firm to have a set of rules and regulations for its smooth operations. In the case of a Private Limited Company or (OPC) One Person Company, these kind-off rules and regulations are known as Memorandum of Association (MoA) and Articles of Association (AoA). We, DMG Tax Accounting Investment and Services will help you out in filling all the Forms and provide the service to MOA or AOA Amendment for the respected Firm. Our Company DMG Tax Accounting & Investment Services is an Indian Portal, with agents having more than 10 years of experience in offering accounting and taxation for the firms. DMG Tax Accounting & Investment Services has been helping out so many firms in Changing the Services as well as in MOA or AOA Amendment also for many successful years being one of the best legal advisors for Changing Services for a Director in Ahmedabad. DMG Tax Accounting Services & Investment Services start a thorough Process regarding your MOA or AOA Amendment from Government, you will be receiving updates regularly from our side till the MOA or AOA Amendment is completed.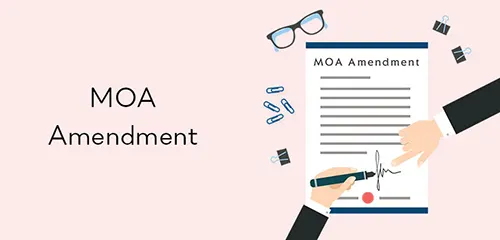 All You Need to Know
To change the Rules and Regulations of your business, you need to do a process called MOA or AOA Amendment. The MoA contains the objective clause. Changes to the MoA of a company would require the passing of a special resolution and shareholder's consent. Other Changes to MoA will include changing the name of a company, changing registered office, Updating of objects clauses with respect to the Firm.
DMG Tax Accounting & Investment is a distinguished business platform and a progressive concept. It helps in end-to-end combination, Submission, consultant, managing your account, and providing many more services to clients in India. We can offer a good service and consultancies to build and give a quick process regarding your MOA or AOA Amendment for your respected Firm.
MOA/AOA Amendment-Process Flow
5 Easy Steps.
Submit Documents
Preparation of Resolutions
Preparation of Forms
Drafting of Revised MOA
Filing of Forms with MCA
Why choose DMG Tax Accounting & Investment?
Ans. We have All over India 100+ clients. They believe in our Quality works & satisfied with our Professional MOA or AOA Amendment Process for the Firm.
1000 MOA or AOA Amendment Process All Over India
Ans. We had done 1000+ MOA or AOA Amendment Process all over India. A single request was not rejected, which was applied by us.
Ans. We value your data and follow the highest standards in data security to keep it secure.
Run by humans, with values
Ans. The company is run by professional and experienced people whose objective is to help users with the best advice and experience.
20 years of helping users
Ans. We have been helping many of our customers to fill for their MOA or AOA Amendment Process Form. And we have the expertise which is helping for almost 20 years.
Ans. The key to good customer service is building good relationships with clients, ensuring a great impression, and providing them with support services related to an MOA or AOA Amendment Process for the Firm.
When Memorandum is to be Amended?
Points to make your decision easy
Object Clause Change
Name Clause
Liability Clause
Situation Clause
Capital Clause
FAQs on MOA or AOA Amendment
Get answers to all your queries.
Is it possible to change the subscriber clause in the Memorandum of Association?
Ans. The subscriber clause contains the particulars of the promoters who subscribed to the share capital of the company, at the time of its incorporation. Therefore, it is not possible to make any amendments to this clause.
What can be amended in the Memorandum of Association?
Ans. As per the Companies Act, 2013, the following clauses of the MoA can be altered –
Name of the company
Address of the registered office of the company
Main objects of the company and matters considered necessary in relation to the objects thereof
Liability of the members in the company
Company's share capital
Can the MoA and AoA be altered in the same meeting?
Ans. Yes, it is possible to call one meeting to alter both the Memorandum of Association and Articles of Association of a company.
Which companies need prior approval for making any changes in the object clause of MoA of the company?
Ans. Architecture, Banking, Mutual Fund, Financing activities, Insurance activities, Stockbroker, multi-level marketing, etc. need prior approval to alter the objects mentioned in MOA.
In case of change in registered office of a company, is it mandatory to alter the situation clause of the MoA?
Ans. If the registered office of a company is shifted from one state to another, then the situation clause of the Memorandum of Association should be amended.