Companies Act, 2013 defines the term "Director" as someone appointment to the Board of a company. Change in LLP Name is not important but also becomes necessary when it comes to the benefits of the LLP Firm. We, DMG Tax Accounting Investment and Services will help you out in filling all the Forms and provide the service to Change the LLP Agreement and Change in LLP Name for the respected LLP Firm. Our Company DMG Tax Accounting & Investment Services is an Indian Portal, with agents having more than 10 years of experience in offering accounting and taxation. DMG Tax Accounting Services & Investment Services start a thorough Process regarding your Changing the LLP Name from Government, you will be receiving updates regularly from our side till Changing the LLP Name is completed. DMG Tax Accounting & Investment Services has been helping out so many firms in Changing the Services as well as in Changing the LLP Name for many successful years being one of the best legal advisors for Changing Services for a Director in Ahmedabad.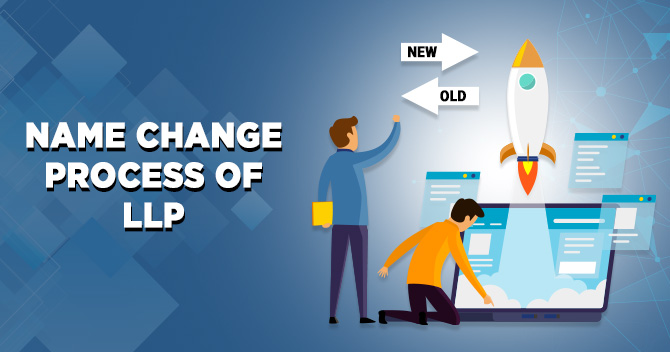 All You Need to Know
During the process of adopting new activities, LLP Firm may require to Change the Name of the LLP Firm. In these types of cases, LLP can Change name subject to provision of LLP regulations and LLP Agreement.
Reasons for LLP name change:
Mergers and amalgamation
Shift in business activity
New brand development
LLP Name Availability:
Before commencing the change name process, decide a name and verify the name availability. If the name is available, then an application for Reservation of Unique Name can be made on the MCA portal to reserve the name for a period of 3 months.
DMG Tax Accounting & Investment is a distinguished business platform and a progressive concept. It helps in end-to-end combination, Submission, consultant, managing your account, and providing many more services to clients in India. We can offer a good service and consultancies to build and give a quick process regarding your Change in LLP Name for your respected Firm.
How to Change LLP Name?
5 Easy Steps
Pass Resolution
Submit Documents
Verification of Documents
Filing of Documents
Company Name is Changed
Why choose DMG Tax Accounting & Investment?
Ans. We have All over India 100+ clients. They believe in our Quality works & satisfied with our Professional LLP Change Name Process for the Firm.
1000 LLP Change Name Process All Over India
Ans. We had done 1000+ LLP Change Name Process all over India. A single request was not rejected, which was applied by us.
Ans. We value your data and follow the highest standards in data security to keep it secure.
Run by humans, with values
Ans. The company is run by professional and experienced people whose objective is to help users with the best advice and experience.
20 years of helping users
Ans. We have been helping many of our customers to fill for their LLP Change Name Process Form. And we have the expertise which is helping for almost 20 years.
Ans. The key to good customer service is building good relationships with clients, ensuring a great impression, and providing them with support services related to an LLP Change Name Process for the Firm.
Documents required for changing the name of the LLP
Attested copy of consent letters from the rest of the partners
Board resolution stating that the Board wants a name change
Trademark Certificate of the name if it has been registered
NOC if the name is already under the Trademark register
Authorization allowing the partner to file Form 1
Certified Copy of LLP Agreement
Effects of a change in LLP Name
The notice of change of name shall be filed with the registrar within 30 days from the day of such change of name.
The change of an LLP name does not affect any rights or obligations of the LLP.
Any legal proceedings continued or commenced by or against the LLP pending in its old name will be continued in its new name.
Changing the name does not affect the constitution and entity of the LLP and therefore the change of name does not bring into existence a new company.
A decree obtained by an LLP in its former name can be executed by it in the new name after it has obtained a certificate for the altered name.
The Registrar of Companies shall issue a fresh certificate of Incorporation after the change of an LLP name has been filed and approved.
As the name of the LLP is also mentioned on the LLP agreement, Pan card, Tan Number, GST Registration, after its change, must also be altered
FAQs On LLP Change Name Process
Get answers to all your queries.
Is there a need to execute the supplementary agreement for name change after issuance of fresh certificate of incorporation?
Ans. Yes, you have to execute the supplementary agreement.
How can I change name for my Limited Liability Partnership?
Ans. LLP can change its name by filling the following forms: a. Form 1 (Application for reservation or change of name) is required to be filled for name approval. b. After the name gets approved, an applicant is required to file Form 5 (Notice for change of name) to intimate the registrar about the Name change of LLP.
What e-forms, do I need to file for name change?
Ans.
E form Fillip
E form llp-5 after name get approved by the registrar
E form llp-3 after issuance of fresh certificate of incorporation
Can an existing partnership firm be converted to LLP?
Ans. Yes, an existing partnership firm can be converted into LLP by complying with the provisions of the LLP Act.
Can LLP give any other address (besides its registered office) for the purpose of receiving communication from Registrar?
Ans. LLP shall have an option to declare one more address within the jurisdiction of the same ROC (other than the registered office) for getting statutory notices/letters etc. from the Registrar.